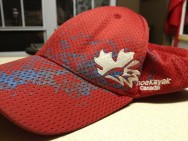 Pulling into the driveway just before 10:00pm and walking into the house, I step over three pairs of shoes in the entry way and head up the stairs. Opening the fridge to get a beer, everything in the fridge is way more organized than either my wife or myself would ever keep it. Even the knives on the knife magnet on the wall are evenly spaced and organized in descending order. I do not have to look in the cabinets. I already know. All of the pots and pans are organized in descending order as well. Heading up the stairs to find something in my office, on the desk is a pair of huge Dr. Dre Beats headphones laid on top of the closed laptop.
The title of athlete is something I no longer can honestly claim. I do not compete and I no longer really train. True, I do get out and bike, paddle or run most days. Training however, is not what I call it. I really do not go that hard. The fire is no longer really there. It is more of a diversion now, something I do for a release. The goal is not to crush it, but rather to enjoy, as Buzz Holstrom so eloquently and succulently put it, "the doing of the thing."
Just because I no loger am an athlete does not mean I do not like being part of the athletic community. Ever since moving to Charlotte six years ago, I have, as much as possible, tried to make it a little easier for visiting athletes by providing a place to stay. Last year an athlete I have coached in the past, Tyler Hinton, approached me about renting out the spare bedroom for a few months to train.
Tyler also asked if a few other athletes could join him for a bit. Michael Taylor, his sister Kathleen Taylor and their friend Ally McGee all stayed at my place for a few months leading up to Olympic Trials. I genuinely enjoyed their company. Although I had met Michael, Kathleen and Ally before, it was a pleasure to get to know them during this time. They were a lot of fun.
This spring Ally asked about staying here again for a couple of training camps. This is about halfway through their second training camp. This time it is Ally, Kathleen and their coach whom I also have known for quite a few years, Michal.
Ally knows I like the kitchen clean, and she is absolutely fastidious about making sure it is always spotless. This I truly appreciate. The shoes in the entryway and the computer in my office, they make me smile. This makes me happy. These athletes feel comfortable staying in my house. They are respectful while still making themselves at home. This is a wonderful combination making it an honor to host these athletes. I hope they come back again.